Did you know that we have ArtScents Reed Diffusers featuring famous paintings?
We package ArtScents Reed Diffusers in a beautiful high gloss, black gift box that contains 12 reeds, one empty 3.4 oz black recycled glass apothecary bottle (shown with oil poured and reeds in place) + 3.5 ounces of fragrance diffuser oil in separate screw cap bottle.
Choose from favorite artworks
Birth of Venus by Botticelli
The Last Supper by Leonardo daVinci
Sugarbowl, Pitcher, and Plate of Fruit by Paul Cezanne
Woman with Mango by Paul Gauguin
The Kiss by Gustav Klimt
Water Lilies by Claude Monet
Sunflowers by Vincent Van Gogh
Bal du Moulin de la Galette by Auguste Renoir
Mona Lisa by Leonardo daVince
Sunday Afternoon on the Island of the Grande Jatte by Georges Seurat
Add your favorite reed diffuser oil from 60+ choices.
We have licensed all of our artwork for reproduction. We support proper reimbursement for the Arts. In this case, the photographers of the artworks receive the royalties for their photographs of the museums' works of art.
Each beautiful ArtScents art image
is printed on a thick, oil-proof label medium.
Save! Buy 3 ArtScents for only $34.88. (Regular price $41.85)
A fitting gift for the art-minded person in your life: ArtScents Reed Diffusers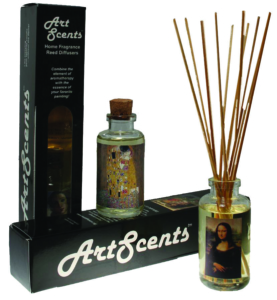 https://www.reeddiffusers.org/wp-content/uploads/2018/09/reed-diffuser-supplies-2.png
0
0
Linda Hebert
https://www.reeddiffusers.org/wp-content/uploads/2018/09/reed-diffuser-supplies-2.png
Linda Hebert
2020-03-18 22:31:16
2020-03-18 22:35:55
ArtScents Reed Diffusers feature Famous Paintings