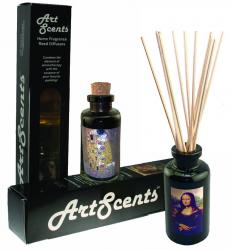 ArtScentstm
The only Art-themed Reed Diffuser product on the Market
Packaged in beautiful high gloss, black gift box as shown. Box contains 12 reeds, one empty 3.4 oz black recycled glass apothecary bottle (shown with oil poured and reeds in place) + 3.5 oz fragrance diffuser oil in separate screw cap bottle. All of our artwork has been properly licensed for reproduction. We support proper reimbursement for the Arts. In this case, the photographers of the artworks receive the royalties for their photographs of the museums' works of art.
Each beautiful ArtScents art image is printed on a thick, oil-proof label medium. Click on artwork to see enlargement.
Save! Buy 3 ArtScents for only $34.88. (Regular price $41.85)
NOTE: All ArtScents bottles are now glossy BLACK recycled glass. They contrast beautifully with the art labels.