Reed Diffuser Bottles
BUY NOW
We have more than 100 recycled glass Reed Diffuser bottles & vases in 16 brilliant colors. Click on the COLOR NAMES HERE to see all Reed Diffusers bottles available in each color. What's Special about our 100% Recycled Glass Bottles?
Many of our beautiful Recycled Glass Bottles and Vases have been created exclusively for us and are available from no other source.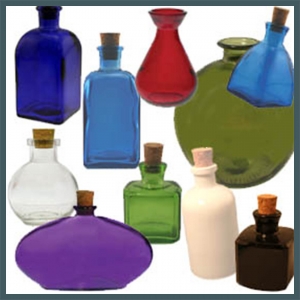 What we're Proudest of: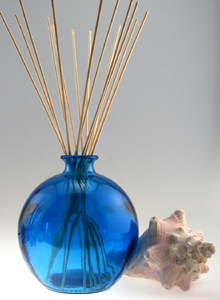 Our bottles are 100% Recycled Glass Made in Spain. This not only makes them the most Eco-Friendly choice, but the most beautiful choice.  You'll immediately notice how superior these bottles are to inferior copies. The color is Brilliant! The clarity, smoothness and depth of color are simply unbeatable. No imperfections.
Why Recycled Glass? Recycled Glass reduces manufacturing related Air Pollution by 20% and related Water Pollution by 50%!
…yet only 10 to 12% of glass used in the US is recycled.
We have bottles in many sizes suitable for many uses: 4 oz., 6 oz., 8 oz., 15 oz., 66 oz.  Visit our Reed Diffuser Bottles page for exact reed diffuser bottle specifications. You'll find that we stock many bottle styles in multiple colors for seasonal displays and matching your decor.
Bookmark this page for…
Absolutely the Only place on the 'net where you can create your own personal style in reed diffusers  by choosing from 100+ reed diffusers bottles and dozens of reed diffuser scents! ..and at a great price too! Can't beat it.
Eco-friendly reed diffuser oils– "green", alcohol-free, DPG-free oils. 6 sizes: 1 oz (in sample packs), 2 oz., 4 oz., 8 oz., 16 oz. (Pint), 32 oz. (Quart).
Whether you're buying for accent glass, floral or reed diffusers, these clearly are The Best Bottles at the Best Price!
All reed diffusers bottles, except Ruffles, Orbs and Floras, come with corks. Want to swap the scent in your powder room for a different seasonal fragrance?  Cork the reed diffuser bottle and save it for later.