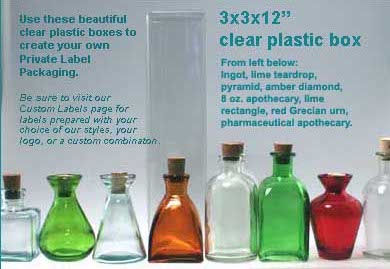 Wholesale plastic packaging boxes for reed diffusers are very sturdy and a perfect choice for your Reed Diffuser sets. Personalize them with our Custom Printed Labels. They're sized to fit perfectly. We have lots of artwork to use with your personal message, or we can use your logo/artwork. This is an inexpensive way to create your own Private Label designs without a large production run.
Our photos show some of our bottles that fit the 2x2x10 and 3x3x12. (These bottles come in many other colors. See the Bottles page.)
In the photo, the Amber Diamond bottle is photographed in the box~ that's how crystal clear are these wholesale plastic packaging boxes for reed diffusers.
Crystal clear, plastic packaging boxes in 2 sturdy sizes: 2 x 2 x 10" and 3 x 3 x 12". Click photo to see examples of bottle and box combinations.